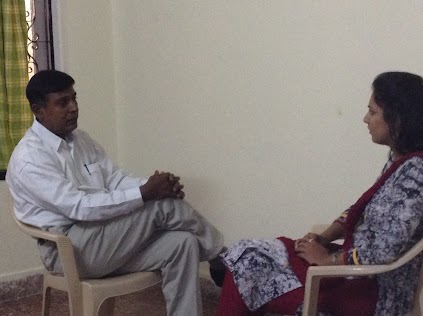 At the HAP we offer a spectrum of services ranging from Psychological Counseling, Psychological Assessment / Career Counseling, Clinical Supervision and Outreach services to the community. Our services are rooted in the scientist-practitioner approach and we constantly seek continuing education to remain current in the field. Due to the lack of a professional ethics code and standards of practice for counseling in India, we follow a combination of the American Psychological Association(APA) and the American Counseling Association's(ACA) guidelines in practice of Counseling Psychology, adapting both to suit India's culture and tradition. We firmly believe in the ethical practice of psychology and in maintaining the current highest international standards of the profession.
Our services include:
Psychological Counseling (ONLINE SERVICES ONLY TILL MID JULY 2020 DUE TO PANDEMIC)

What is Psychological Counseling?
Psychological Counseling is a process where you talk with a professional counselor and gets the support, guidance and help you need to cope with life's difficulties. A counselor is a trained professional who helps you understand yourself, your behaviour, feelings and thoughts, and allows you the safe space of the counseling relationship to express yourself fully and completely without judgement. In addition, the counselor has expertise in how to handle different life situations like difficult relationships, anxiety, depression, stress, etc and can offer you guidance and advice on how to manage these problems in your life. The counselor will use a variety of different approaches that work on your thoughts, feelings and behaviors to help you lead a better quality of life.
Types of Psychological Counseling
We offer individual, marital, family, adolescent, and career counseling. The most frequently sought counseling modalities are described below.
Individual counseling:
An individual person comes in for a session with a counselor and works on specific issues he/she is facing. Common psychological issues that are seen in individual counseling include:
Depression
Anxiety
Self-esteem
Identity issues, including cultural, religious, gay/lesbian/transgender, etc...
Body image, eating disorders
Loneliness
Stress
Don't know how to cope with life circumstances
Difficulty forming or maintaining healthy relationships
Physical or emotional abuse (past or present)
Inter-generational issues (including cultural conflicts between parents & child)
Difficulty defining problems
Marked changes in functioning
Irritability
Changes in thinking or perceptual abilities
Difficulty setting limits with others
Marital/Couples counseling:
A couple (married or unmarried/ straight or gay) seeks counseling to work on their relationship and resolve conflicts such as anger, infidelity, sex, communication problems, etc.
Adolescent counseling:
Teens and pre-teens often have difficulties because of the multiple changes they are experiencing as a teenager. Thus, parents and the teen seek counseling to work on managing the behavioural difficulties and relationship tension that occurs between them. The following are some signs that an adolescent might need professional help:
Long periods of sadness
Sudden anger/irritability that doesn't go away
Withdrawn behavior/Sudden change in behavior
Concentration/attention problems
Alcohol/drug use
Temper tantrums
Feeling anxious and worried
Strained relationship with parents
Stealing/Lying frequently
Being overly demanding of parents
Not having friends/socializing
Family Counseling:
Families can be torn apart by illness, divorce or other problems that create conflict and stress. Family counseling can help families identify and resolve problems for issues like:
Divorce
Eating disorders, such as anorexia or bulimia
Substance abuse
Depression or bipolar disorder/Diagnosis of a serious illness
Chronic health problems
Grief, loss and trauma
Work stress
Parenting skills
Emotional abuse or violence
Sexual abuse
What do people seek counseling for:
Counseling can be useful for any problem where the person is experiencing distress or difficulty in managing their life. It can be a mild difficulty or a moderate to severe difficulty and counseling can offer help to anyone in need. Counseling is a process that takes time and thus people often seek counseling for about four to six sessions for a given problem. Sessions are typically held once a week and the HAP keeps confidential records of all services provided.
Charges and time taken:
Counseling sessions are typically 60 minutes in length for individual counseling and 90 minutes for couples counseling. All information shared in the session remains completely confidential except in cases where safety is an issue. We offer face to face counseling and have recently started offering counseling services on the phone or via skype. We offer three levels of psychological counseling based on the experience of the counselor and the fees range from free counseling (provided by interns or counselors in training) to 3000/- per session. Fees are charged on a session by session basis.
If an intern or a counselor–in–training is providing the counseling services, the counselor is supervised by a practicing experienced psychologist / counselor and this process is also explained to the client at the start of the counseling process. Confidentiality is discussed with each client at the outset and goals are set for counseling, typically during the first session.
Please call us for more information or to make an appointment for counseling on 040-27847755 or +91-9493975140
Please Note: For first appointments only, you have to pre-pay the full session fee in order to book and confirm your appointment. If you give us a minimum of 24hours notice of cancelling or rescheduling your first appointment, your pre-paid session fee will be refunded or applied to the rescheduled session. Late cancellations (less then 24hrs) are non-refundable. Please CALL to cancel or reschedule your appointment.

Psychological Assessment/Career Counseling
The philosophy of HAP is rooted in the belief that psychological assessments promote a global perspective on an individual that must go hand in hand with counseling for best results. Our assessments include normal personality assessments and career testing. We use a variety of psychological assessment tools to aid the process of counseling and these include assessments for depression, anxiety, relationship difficulties, relationship satisfaction, parenting skills, personality traits, etc.
When an individual seeks an assessment, it is important to note that psychological assessment typically takes more than one session. The individual would meet with a counselor and then a decision about psychological assessments would be made. Then the counselor would administer the necessary psychological tests. The tests would then be interpreted and conclusions drawn. The client would then receive feedback from the counselor along with a report of the psychological assessment results.
Career counseling involves meeting with a counselor, completing an initial information gathering (intake), then completing a battery of tests. The tests include assessment of personality, intelligence, interests, abilities and values. The information is then put together to form an overall picture which is helpful in determining one's career path.
Career counseling takes about 3 sessions (1–2 hours each) and once you complete the assessment, you will receive feedback and a career assessment report. Career counseling is useful to anyone who is seeking to determine their career path, especially students from grades / standards 9 through 12 or those individuals seeking to change their chosen career / academic path.
For older adults seeking a change of career path, we recommend that you come in for an individual counseling session to assess your needs. Currently, we do not offer career testing for older adults and offer individual counseling related to career issues.
Clinical Supervision is offered to trained counselors who are seeking self-development, case conceptualization skills, understand and developing their theoretical orientation and improving their skills as a counselor. Dr. Diana Monteiro offers clinical supervision at HAP and here are her thoughts on clinical supervision. If you would like to be supervised by her, please read the information below and then contact her.
In Dr. Monteiro's words:
If you are considering seeking professional clinical supervision from me, here's more information for you to help you make a decision. I provide clinical supervision to counselors and clinicians working in the field of mental health. Supervision is a process involving meeting with me on a regular basis to discuss clinical and professional issues are arise in your work. It is a structured meeting that happens for one hour with the aim of assisting the supervisee in developing/honing his or her skills and knowledge base, as well as ensuring a high standard of service provision to the client/patient.
I have been trained to provide clinical supervision during my doctoral studies and have provided supervision since 2003. My theoretical style is counseling is a combination of constructivist and cognitive theory guided further by development, attachment, interpersonal process, and culture.
My Supervision Model: I conceptualize supervisee growth developmentally and adapt my style based on skill level. I tend to provide more direction at earlier stages and mentorship at later stages of therapist development. My style offers a combination of support, discussion, challenge and feedback to help develop strong conceptual skills and theoretical orientation. Integration of theory and empirical research into practice and using self as a tool are encouraged. Interpersonal process forms a large part of my work in supervision and I encourage constant self-examination for growth as a therapist and professional. Creating a safe environment for positive personal and professional development to occur takes precedence in this process.
To begin supervision with me, please call me so that we can discuss your needs and get to know each other. I typically do individual and group supervision, once a week to once a month depending on the supervisee's needs. Before we formally begin supervision, I like to meet with a potential supervisee and let us learn about each other to see whether we will be able to work together or not.
Charges for supervision: I charge a fixed amount per supervision session which is an hourly rate. Individual supervision sessions and group supervision sessions are offered so please check with me regarding availability of group vs. individual supervision and the rates for each. Groups consist of three supervisees in a group for an hour session.
If you think you would like to discuss working with me under supervision, please call me directly on 90002-34262 or contact me via email at dvmonteiro@yahoo.com.
Outreach & Prevention programs
The HAP reaches out to the Hyderabad and surrounding community through its outreach and prevention programs. These programs are geared towards promoting personal growth and educating individuals who may be concerned with a variety of social, emotional, behavioural and academic/career problems.
Outreach services are offered to Schools, Colleges, Corporate clients, and the general public.
School based programs
Our school based outreach programs focuses on adolescent students since they are typically the most in need of assistance with life issues at this crucial juncture in their life. We typically present to students in Class 9 and 10. Topics for schools include:
| | |
| --- | --- |
| Test Anxiety | Study Skills |
| Self Esteem | Peer relationships |
| Dealing with difficult parents | The psychology of love |
| Getting ready for the 10th class (for the 9th class students) | Being the best you can be (for outgoing students of Class 10) |
| Health/Hygiene (for girls) | Stress management |
We can create other programs to suit your needs, so please call us for more information on programs and charges for the same.
College based programs

The HAP provides workshops and presentations to student groups and classes on a wide variety of topics. We are happy to arrange programs that may be of interest to your group or class. We are also more than happy to be part of a panel discussion you might be arranging that involves issues related to relationships, stress, families, the college experience, dealing with difficult issues, grief and loss, etc.
Following is a list of some of the topics that are available. Other topics that might not appear on the list are also available. Please feel free to call if you have any questions about a topic you might have in mind.
We look forward to being able to respond to your requests!
Some of our Outreach Topics:

| | | |
| --- | --- | --- |
| 1001 Things to Do Besides Drink | How to Talk About Sex | Abuse Issues (physical, sexual, emotional) |
| Anger Management | Alcohol and Drugs | Intro to Career Decision Making |
| Anxiety Management | Juggling Multiple Roles | Assertiveness Training |
| Basic Communication Skills | Love Stinks - Breaking Up Is Hard To Do | Basic College Survival Skills |
| Motivating Yourself to Study | Body Image Issues | Overcoming Procrastination |
| Coping with Performance Anxiety | Communicating With People Different From You | Parenting |
| Communicating about Sex | Relationships | Coping with Depression |
| Relaxation | Coping with Health Problems and College | Sexual Assault |
| Self Esteem | Dating Conflict | Stress Management |
| Dating Issues | Study Skills | Dealing with "Bad" Feelings |
| Test Anxiety | Eating Concerns | Test Taking Skills |
| Grief and Loss | Time Management | How to Help a Friend with a Problem |